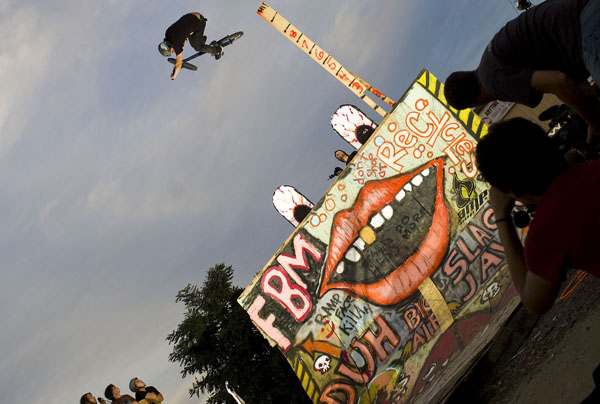 Another year… 2008, if nothing else it was interesting. At FBM, there were many hurtles, and potential disasters… The old Building that Housed FBM Finally hit defunct status, forcing an emergency relocation to a new spot, that was rough around the edges at best. With some elbow grease and improvised thought, the place came together, and has several crucial elements lacking in the old spot, Windows, heat, a security system, and reliable access to the outside of the building.
In the BMX community, we all went through our ups and downs as well, Jimmy recovered from his head injury, only to get run over by and blind old man in an SUV, Lou Bickle spent the past 14 months in a correctional facility in Chester Pa. and we all wrote letters, raised money and hoped for the best while Mikey Aitken lay in a hospital, with no certainty he'd walk away from his injury… He did, and we all rejoiced, while he is still in recovery, he's seems to be doing great!
2008 also marked the release of a new line up of complete bicycles, changing the whole dynamic of the company, and getting very good reviews from the critics, and the people that ride them. In addition the the Completes, FBM Fixed gear frames, Known as "the Sword" also entered the market, and with its amazing unicorn headtube badges, it also garnered success.
Big Dave eventually took a Sword he made by hand, and rode it 100 miles around Cayuga lake, to raise money for AIDS charity, single speed, double stokeage for a good cause.
Outside the building,we also saw some pretty cool shit, A bunch of us hit the road, in what would become the gypsy caravan trip. We hit up the midwest, with over 50 riders, all laughing and having a good time, meeting locals, and BBQing at parks, good times. We also got to meet marbles and eat pizza at Ray's wonderland of ramps.
At the Belmar, Dave King built another interesting setup, making for an amazing weekend of bike riding, bad behavior, Amateur catapulting, and Darryl Nau bathroom humor on the mic. Another Year watching BF hit a single behind a bar, added to the fact that Doyle killed it, was pretty cool.
At interbike, Bob Haro came into the FBM booth, (maybe I'm the only one that was STOKED on that) and Cru Jones was present signing autographs, but the best part was Stephen Murray on stage at the NORA cup.
Not Long after the trip to Vegas, we got over 200 pallets and built a huge quarter pipe/ rollin Combo, for the Ghetto High Air challenge. Amazingly, Mat Hoffman came and Judged, while Cad Kagy, An Simon Tabron went nuts, and Garrett Guilliams won highest Air. Not to be outdone, Leland challenge peoples stomach's by hosting a hot dog eating contest…
All that, and much much more….
On behalf of FBM Bike Company… I'll say thanks to everyone for another kick ass year. Thanks to Mike Erb, JP, John Lee, Big Dave, Joby, and the Corts Brothers At FBM, thanks to all the Team Riders past and present, supporting FBM, as well as every rider, friends throughout, bike shops, distributors, contest organizers, Blogmasters, Magazine staff, skateparks, trail builders, and so on and so forth…Thanks to everyone!
Here's a slide show from some of the pics throughout 2008, and a few of the Videos…enjoy.

2008 Slideshow from FBM BMX on Vimeo.

FBM Friends and Family Random edit… from FBM BMX on Vimeo.

Mini East Coast Roadtrip from FBM BMX on Vimeo.

FBM Spring 2008 Promo from FBM BMX on Vimeo.
Originally Posted by steve crandall